IS team wins 2022 Discovery GradHack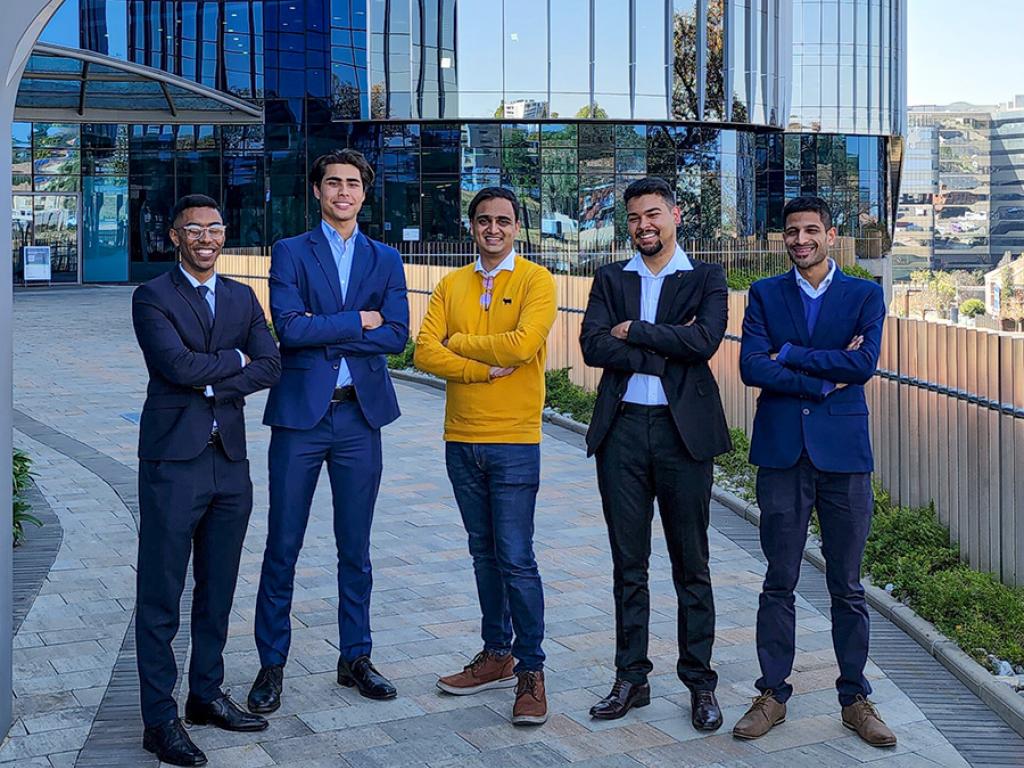 A team of Information Systems Honours students put in an outstanding performance at the 2022 Discovery GradHack competition and won first place.
The team, consisting of Athir Fayker, Furqaan Ajmoodien, Goosain Allie, Kyle Poggenpoel, took part in the annual immersive work experience that solves real challenges through technology opportunities.
Here's what the team had to say about the solution their winning solution:
"After being tasked with finding an innovative idea and developing that idea to further enhance Discovery's products using emerging technology and the Internet Of Things (IOT), the team set out and researched on possibilities in which Emerging Technology can be used to drastically bring change and immense business value to Discovery, specifically that of the insurance division. 
 We noticed that in most cases within the insurance industry, the process of settling a claim is still a very manual, time-consuming, and legacy based process. We therefore explored the possibilities of shifting away from this legacy system and digitising the claims process. 
"Out of this research and opportunity, D-Tex, was born. We created an AI/ML tool that provides insight, scope and streamlines the assessment process, by detecting the damage caused to vehicles. This speeds up the process as there is no longer a need to send an assessor out to assess any damage caused. It can also potentially add extra benefit to Discovery as they save costs on having to send out an assessor. 
"D-Tex is able to detect where on the car the damage occurred, as well as the severity of the damage by labelling and categorising the damage into minor, medium and major categories. 
 "From the start, the team's focus was on developing a simple yet effective solution that was able to create major business value for Discovery, while at the same time, improving the customer experience. D-Tex managed to achieve what it had set out and the judging panel were impressed by the effectiveness of such a simple solution. It truly goes to show that one does not need fancy gadgets, technology, and hardware to be able to produce an award-winning solution."