Research groups and projects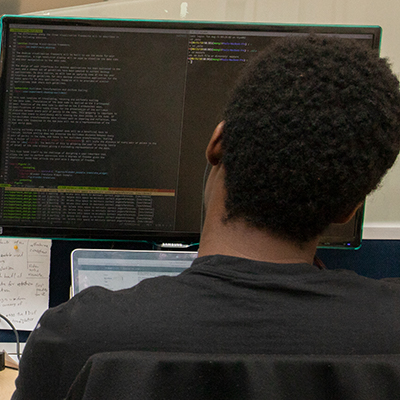 We aim to be a leading African centre for research and study of computer science and information systems, producing world class graduates and research while playing a positive role in the upliftment and empowerment of our community. This is only possible through the excellent endeavour of our academic staff, all with strong CS/IS/IT background, in theoretical and research areas, as well as contemporary industry experience.
We have a dual mandate: to bring the best of IT knowledge to the classroom for dissemination to students and to assist in the production of IT knowledge through active research and publication.
Research Areas
Centre for Artificial Intelligence Research (CAIR)
(Director: Professor Tommie Meyer, Deputy Director: Associate Professor Deshen Moodley).
The Centre for Artificial Intelligence Research (CAIR) is a national centre, hosted by the CSIR, with nodes at a number of South African universities. CAIR conducts research related to foundational and applied aspects of Artificial Intelligence. The UCT node has a specific focus on Knowledge Representation and Reasoning, as well as Adaptive and Cognitive Systems, and explores applications of Artificial Intelligence for social and economic development in South Africa and Africa.
Centre in ICT for Development (ICT4D)
The Centre is no longer operational as of 2021; however, research in various areas of ICT4D continues within other research groups in the School.
Centre for IT and National Development in Africa (CITANDA)
(Director: Lisa Seymour, Deputy Director Salah Kabanda)
CITANDA is a University of Cape Town accredited research unit. The main research focus of CITANDA is the role of ICT in National Development. This entails looking at the relevance of current information systems issues in the context of both the first-world and developing context within South Africa as well as the rest of African. In particular, the following specific research areas have been identified by the staff as areas of strength: Education; Management of the IS function; Knowledge management; Electronic commerce and business; Development and cultural issues; and Cybersecurity.
Collaborative Visual Computing
(Co-ordinator: Professor J Gain).
Topics of research include: Collaborative Virtual Environments; Usability and Human-Computer Interaction; Computer Graphics; Image Analysis applied to Medical Images; Virtual Reality and Behavioural Therapy; allowing end-users to create interesting virtual environments; Interaction with Mobile Computing Devices; Scalable Interfaces; and implications of these for Government Information Technology Policy. Special interests within the CVC lab include Socially Aware Computing, VR Methodology, Virtual Environments, Modelling and Procedural Graphics.
Cybersecurity Centre for Southern Africa (C3SA)
(Co-ordinator: Professor Wallace Chigona)
The core activities of C3SA include deploying the Cybersecurity Capacity Maturity Model for Nations (CMM), developing initiatives to improve cybersecurity capacity and conducting cybersecurity research in Africa. Along with CMM deployments, we strive to increase cybersecurity awareness in the region. Our strength is on our cybersecurity experts, researchers and partners who share an overarching goal of helping nations with cyber resilience. C3SA provides a single-entry point for cybersecurity capacity building & research activities in Africa.
Digital Libraries (DL)
(Co-ordinator: Professor H Suleman).
Research areas covered within digital libraries include information storage and retrieval; multilingual retrieval; Web-based systems; scalable and flexible repositories; interoperability and protocols; component-based systems; Open Access; and cultural heritage preservation.
Enterprise Systems Education for Africa (ESEFA)
(Co-ordinator Lisa Seymour; Centre Manager: Gwamaka Mwalemba)
The ESEFA (Enterprise Systems Education for Africa) programme aims to sustainably develop enterprise system skills and competencies in Sub-Saharan Africa using a collaborative train-the-trainer model and through empowering students through relevant educational interventions. The programme hosts an annual conference and the ESEFA centre at UCT trains lecturers throughout the region, develops and provides curriculum, a community portal, a certification examination, and a helpdesk. Since 2013 over 6000 students from over 22 universities have been trained through the programme in the theoretical and practical aspects of enterprise systems and data analytics using mainly SAP technologies.
Evolutionary Machine Learning
(Co-ordinator: Dr Geoff Nitschke). 
The main focus of the research group is to devise new methods using algorithmic techniques from a broad range of biologically inspired machine learning sub-fields such as evolutionary computation and artificial neural networks as well as statistical machine learning, and apply such methods to adapt artificial brains on various experimental platforms, including: evolutionary-robotic, artificial life and agent-based systems.
High Performance Computing
(Co-ordinator: Associate Professor M Kuttel).
This laboratory investigates aspects of high performance computing, including: parallel algorithms; multi-core and GPU programming; computational science; and scientific visualisation;.
Human-Computer Interaction
(Co-ordinators: Associate Professor Melissa Densmore).
Affiliated with the Centre in ICT4D, this laboratory takes a human-centred approach to the design and deployment of systems. Domains of research include design for mothers, design for community-health workers, local content creation for communities, media-based peer health education, and co-design across borders, with a focus on the role of HCI in making effective, usable and sustainable systems to address problems of inequality and social justice.
ICOMMS
(Co-ordinator: Professor Ulrike Rivett)
iCOMMS (Information for Community Services) is a research team within the Department of Information Systems. Formed in 2011, the team is an interdisciplinary group of researchers focused on understanding the use, application, and impact of ICTs (Information and Communication Technologies) towards development. The team's research contribution lies in developing models for context-based information system design and development, with a strong focus on supporting service delivery and local governance.
Knowledge Engineering
(Co-ordinator: Associate Professor Maria Keet)
The aim of the team's activities is to contribute computing theory, methods, and techniques to the knowledge society. The scope of the KEEN team is knowledge engineering in its broad sense. This includes ontology engineering, the Semantic Web, intelligent (logic-based, ontology-driven) conceptual modelling, and natural language generation.
Network and Information Security
(Co-ordinator: Professor A Hutchison).
Computer Network Security: this group aims to design and implement network security protocols to address problems of security in web services, cloud computing environments and enterprise environments; research includes goal-oriented protocol design and identity management.
Networking for development (NET4D)
(Co-ordinators: Dr Josiah Chavula and Dr David L Johnson).
The Net4D laboratory focuses on the design and implementation of network infrastructure suitable for developing regions, as well as methods for sharing information in resource-scarce areas using alternative technologies. Main areas of research include Network Measurements, Wireless Community Networks, Localised Cloud Services, Software Defined Networking (SDN), and AI-driven network engineering. Our work involves a mix of creating solutions using network theory and systems, combined with trial networks that provide tangible measurable results. Net4D laboratory is affiliated to the UCT Centre in ICT4D.
Tech4Good
Tech4Good Lab - Africa's first dedicated Tech4Good research lab aims to harness the power of emerging technologies such as blockchain, artificial intelligence, drones and 3D printing to help solve some of the world's most pressing problems. Tech4Good Lab aspires to become the leader of pan-African research in this space.
For more information on the research being conducted by our team, visit the Academic Staff page where you will find links to their research profiles.