The Hackstreet Boys win the 2023 Discovery Gradhack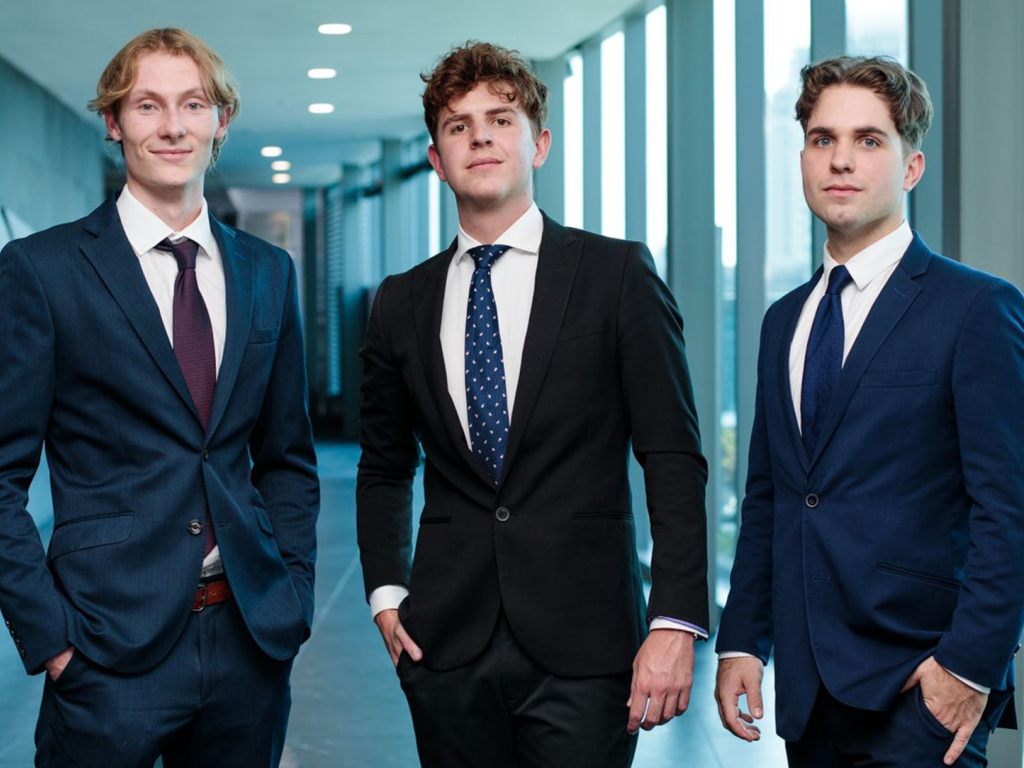 The Discovery 2023 Virtual Gradhack event kicked off on Friday, 21 April with 15 teams hacking their way throughout the weekend. The top three teams were all from Cape Town,  with 'BroCode' and 'Hackstreet Boys' from University of Cape Town and team 'QWERTY' from Stellenbosch University.
In the end, it was Hackstreet Boys who took top honours with their innovative solution that utilised Self-Sovereign Identity in order to revolutionise the Know Your Customer (KYC) process throughout the different business units of Discovery. .
The winning team comprises James Clark, Max Coleman and Jack Scott-King, all fourth year Information Systems (IS) students. All final year IS students are required to work on a year-long systems development project and James, Max and Jack decided that they were interested in something that became a 'passion project' for them that would benefit society as a whole. While many IS student groups are allocated to work on projects for actual companies, James, Max and Jack ended up working for themselves, something that suited their entrepreneurial mindset. However, they were encouraged by the lecturing staff to enter the Gradhack as a way to get exposure to like-minded people, to foster collaboration and innovation.
"It was really an eye-opening experience and we have to give credit to the UCT staff, especially Elsje Scott. She really, really pushed us to do it and she was a great, great mentor in guiding us to do this project," said Jack.
"We were quite dumbfounded by it, even just to make it to the top three. You get 72 hours to develop a solution for Discovery and then you have to present it. And so it's a very tight timeframe and you are under a lot of pressure. We were beyond grateful, but it was a truly, truly eye-opening and phenomenal experience," said Max.
"We used the new revolutionary technology called Self Sovereign Identity that is really going to change the way digital identity works in the next couple years," said James. The technology promises to do away with usernames and passwords and dramatically increase identity security.
The team's project proposed a solution to Discovery's challenges surrounding the 'Know Your Customer' process, but it has much wider implications.
"So a big part of it is also the potential future use case, as the technology is potentially suited for government adoption," said Max, explaining that it potentially allows all official identification to be on your phone and used in a similar manner to Apple or Google Pay but could include all necessary individual documentation such as your driver's licence or even things like a COVID 19 certificate.
"We really did want to work together because I think we all have very similar mindsets and the exact same work ethic I would say. So we are very grateful to have the team that we have as we all are very aligned, and I think we are all very ambitious and want to see how far we can take this project," said Jack.
All three of the Hackstreet Boys are motivated by a love of technology and believe they couldn't have chosen a better degree. "I think we're all agreed that we couldn't have chosen a better specialisation. We don't regret taking information systems at all. It's the best choice we could have made," said James.
"I think we have to credit the lecturing staff. They really do go above and beyond to try and cater towards the students to try and show that we can get those marks in the actual courses, but also to push us to do something such as Discovery, which just shows, just shows how phenomenal they are," said Max.